Humanoid robots are totally fascinating. In the fall of 2014, I saw a performance by the Japanese Oriza Hirata robot theater at Trafo, here in Budapest. The company took its inspiration from Kafka's The Metamorphosis and, unlike in the original work, Gregor Samsa wakes up to find himself transformed into a humanoid robot rather than an insect. Although the robot stayed in bed until the end, as demanded by the role, I was fascinated by the way it gesticulated and blinked. I thought the 21st century technology, able to reproduce the human body, its movement, its mimicry, and the details of facial expression, was stunning. So I was thrilled when last summer I got the chance to visit a robotics exhibition and get a closer look at humanoid robots and other unimaginable inventions.

The Innorobo robotics exhibition was organized in Lyon, France. The goal of the exhibition was to offer a chance to see many of the robotic solutions designed for industry, healthcare and the entertainment industry. The main goals of these robotics products are to simplify life, make work easier and safer, increase human energy, and achieve better control over our cities and our homes. When walking through the exhibition, I envisioned the factories of the future, where robots work tirelessly and with unbelievable speed for 24 hours a day, handling jobs that are either too monotonous or too dangerous for humans. I came across human-shaped robots that were able to imitate Darth Vader or render a performance of "Singing in the Rain." I saw humanoid robots able to teach children in an entertaining way or serve as companions for elderly people, responding to changes in their moods. I was amazed to watch the drones, the Mars vehicles, and the "investigative" robots that enable us to obtain knowledge from places where we would otherwise be unable to go because of distance or danger. In cases like this, they can be our eyes and ears while we guide them from a safe place.
A number of Japanese companies were among the exhibitors – and I studied their products with particular attention:
AIST, one of Japan's largest scientific research organizations, presented a seal robot called Paro; which is already used in hospitals throughout the world as a therapeutic tool. Paro treats depression, anxiety, and any number of cognitive disorders including dementia. Among patients with dementia it reduces aggression and forgetfulness. Paro looks like a giant stuffed toy seal. Its body contains a set of sensors that respond to human touch and mood. It can move, open and close its eyes, make sounds and express joy, sadness, and surprise. It tends to be a form of animal therapy in situations when it is impossible to use a live animal.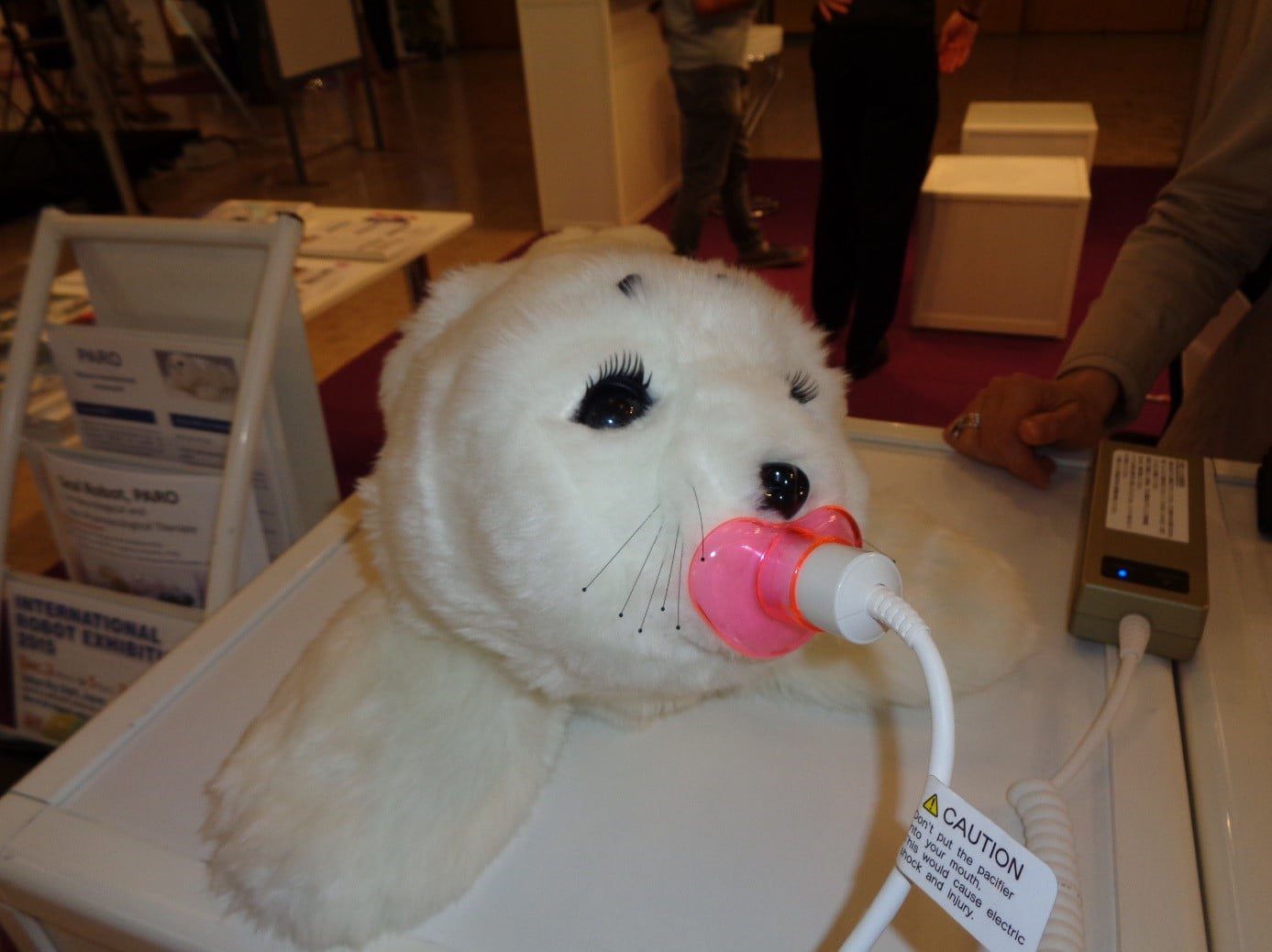 Aldebaran, a member of the SoftBank Group, manufactures and sells humanoid robots. The result of cooperation between Aldebaran and SoftBank Mobile cooperation is Pepper, the first humanoid robot designed to live together with humans. Pepper is friendly and sociable. Pepper is able to move, to converse with humans, to recognize their feelings, and to respond. A laugh will tell Pepper that we are feeling well, and if we lower our eyebrows, Pepper suspects that something is wrong. The robot analyzes our facial expressions, gestures and words. From that it draws conclusions on our mood and adjusts accordingly. In fact, Pepper will even try to cheer us up by playing our favorite music. Pepper is also able to express emotion. Looking into its eyes reminded me of the adoring way a dog can look at people.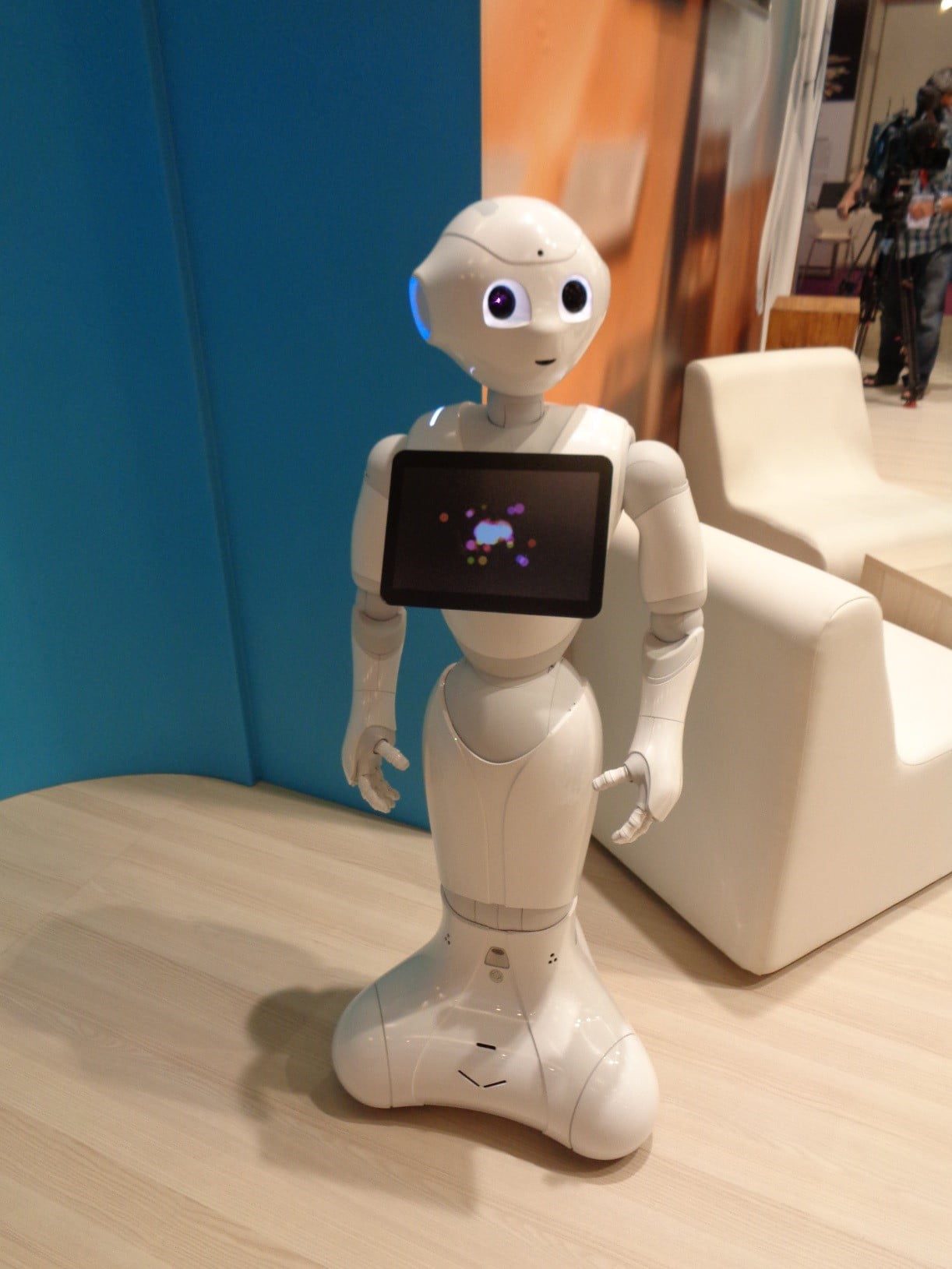 The FANUC company presented a new collaborative robot. - While a usual robot is designed to work on its own, collaborative robots have been designed to work together with humans. - CR- 35iA is the name of a special robot, the first among industrial robots to be able to move a weight of up to 35 kg. It has an integrated visual system and will stop automatically and safely when it or the tool it is using touches the operator. A force-measurement sensor in front of its feet enables it to do this. To increase security and reduce the force of any robot/human impact, the robot is covered with a soft green coating. The CR- 35iA can help perform work in hard and repetitive jobs in areas like the vehicle industry, packaging, distribution and metalworking.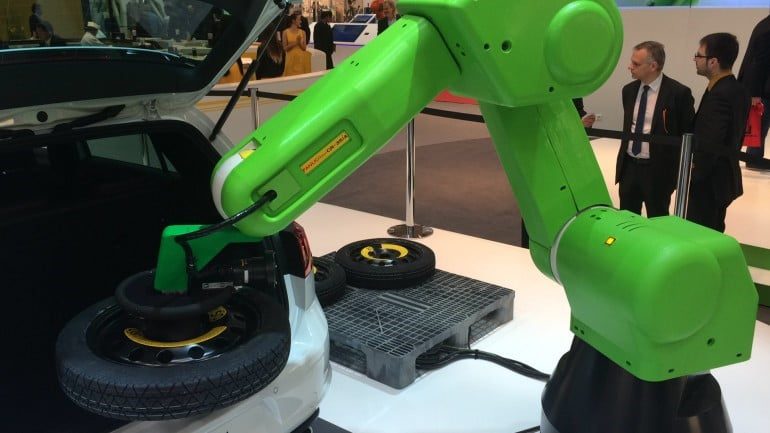 The humanoid robot manufactured by Kawada and called NEXTAGE is also a collaborative robot. The NEXTAGE robot takes over boring repetitive jobs and makes it possible for humans to deal with the work flows that require more creativity and development skills. The robot is able to cooperate with humans, with conventional industrial robots, and with specialty tools, to enhance company efficiency in production processes. I saw that the robot, which is really human like in its appearance, was able to recognize the pieces of a puzzle with the sensors in its eyes and arms, and to attach each piece to the correct place and produce the appropriate image: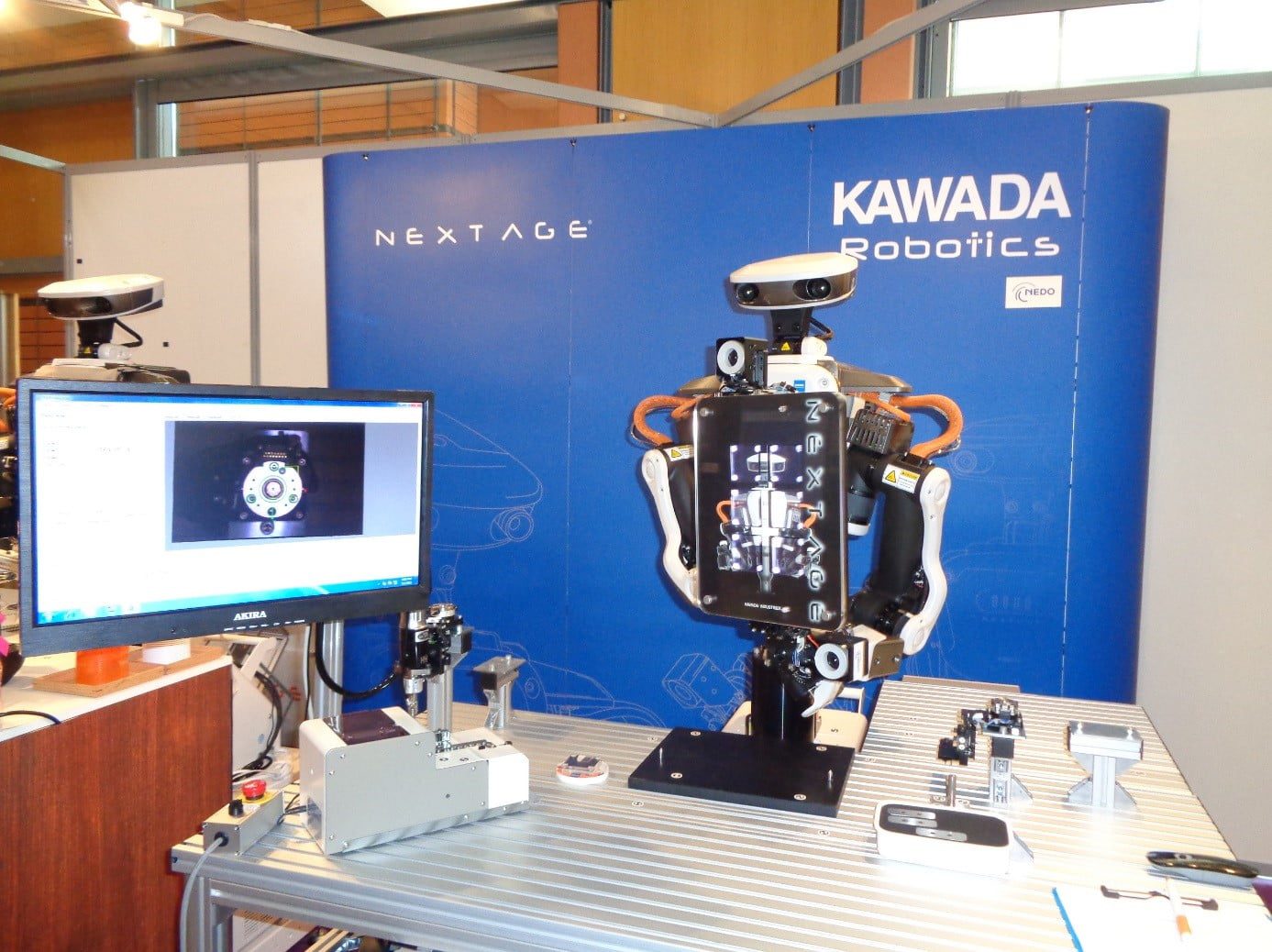 NEXTAGE was also able to make coffee for visitors:

PGlmcmFtZSBzcmM9Imh0dHBzOi8vd3d3LnlvdXR1YmUtbm9jb29raWUuY29tL2VtYmVkL1BIeG1HUEExMGNrIiB3aWR0aD0iNzcwIiBoZWlnaHQ9IjQzMyIgZnJhbWVib3JkZXI9IjAiIGFsbG93ZnVsbHNjcmVlbj0iYWxsb3dmdWxsc2NyZWVuIj48L2lmcmFtZT48L3A+
Source:
http://innorobo.com
Sources of the photos:
Exhibition poster: http://www.maddyness.com
Fanuc robot: http://innorobo.com
Cover photo: http://trafo.hu
The rest of the photos are my own: I took them at the exhibition.