Accidental events, which create heroes and victims alike, are a favorite theme of romantic novels and dramatic films. Everyone's life is influenced by accidents that are sometimes devastating, and we tend to wonder about these accidents. What would have happened if....I'm no exception but I prefer to think about the lucky accidents that have shifted my life and those of others, in a good direction.
            One fateful event I am proud to remember followed a cherry blossom celebration in London, when an unexpected change in program left an acquaintance of mine, who had just become a top manager at the Sumitomo Mitsui Bank thanks to a merger, free for an evening. We were scheduled to meet again after a long hiatus. And then his bank ordered him to accompany the chancellor of Josai University, sort of as her right hand man, with me as the tag-along guy. What does a big Japanese bank (a megabank as they call them in Japan) have to do with a private university? The university was founded in 1965 (exactly 50 years ago) by Mikio Mizuta. Mizuta was a Member of Parliament for the Liberal Democratic Party for 30 straight years beginning in 1946 and, as minister of economics and then of finance, he played a dominant role in the economic policy that put Japan on the road to dynamic development. As a former finance minister, he retained a high level of prestige and influence in the Japanese banking world and the outcome is that the relationship between the Japanese financial world and the university continues to be explicitly good. And the current chancellor, more precisely, the chancellor of the organization consisting of Josai University, Josai International University, and Josai College, is Noriko Mizuta, the founder's younger daughter.
            Moving ahead with the story, I had better admit to some strong prejudices prior to my first meeting with Professor Mizuta. With enough money you can buy anything! And I have met more than one young person who inherited a tremendous amount from a genius parent but was nothing at all like that parent. Well, Professor Mizuta was quick to put those prejudices out of my head. She was a scientist, a researcher in her own right and an exceptionally astute, intelligent, quick-thinking, and independent leader, someone who was not only able to gain the respect of her subordinates but who also deserved the admiration of the kind of independent observer that I was.
            Then, in May 2006, at the request of my banker acquaintance, I gave a public presentation at the university. After the presentation I was asked to hold a concentrated credit course by the faculty of contemporary political science on the subject of my presentation (the background to the regime change in Hungary and the consequences), discussing it in greater detail. At the same time, I was re-introduced to Professor Mizuta, who asked me if I could find a Hungarian partner institution for their new faculty of tourism, one with outstanding experience in teaching about tourism.
That got the ball rolling!
            After I brought them together, Professor Judit Hudasi, dean of the Budapest College of Economics, met with Professor Mizuta in July, and by January the two institutions had signed a cooperation agreement. In response to another request, I brought the Japanese school together with St. Stephen University and the pharmaceutical faculty of the Semmelweis School of Medicine. Since then, I have helped establish ties with at least eight other Hungarian colleges, and those contacts began to offer dividends in the form of study trips, scholarships, and concrete exchange programs...
            In a bid to advance ties with Hungary, the university offered a venue for exhibitions by Hungarian artists, for concerts, and numerous cultural programs.
            I honestly feel that my contribution to these contacts played a major role in the fact that in 2010 I was awarded an honorary doctorate by Josai University.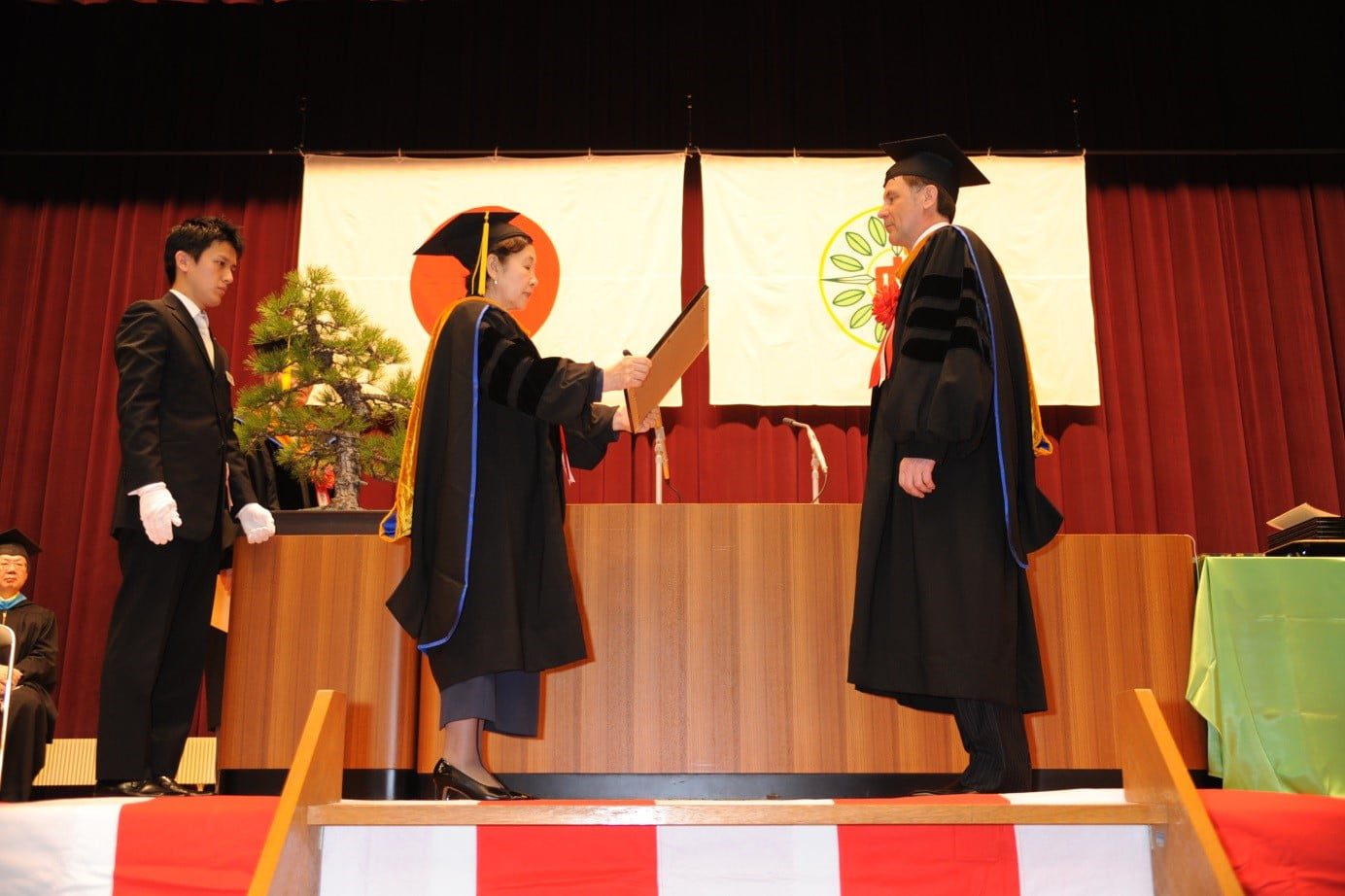 In 2008 the school began offering a course in Hungarian language studies. The course is not aimed at training teachers of Hungarian or Hungarian linguists, but is a facultative subject for people thinking of expanding their language skills. And it is beyond belief that over 2,000 students have signed up for the course. Those graduates will never mix up Budapest and Bucharest!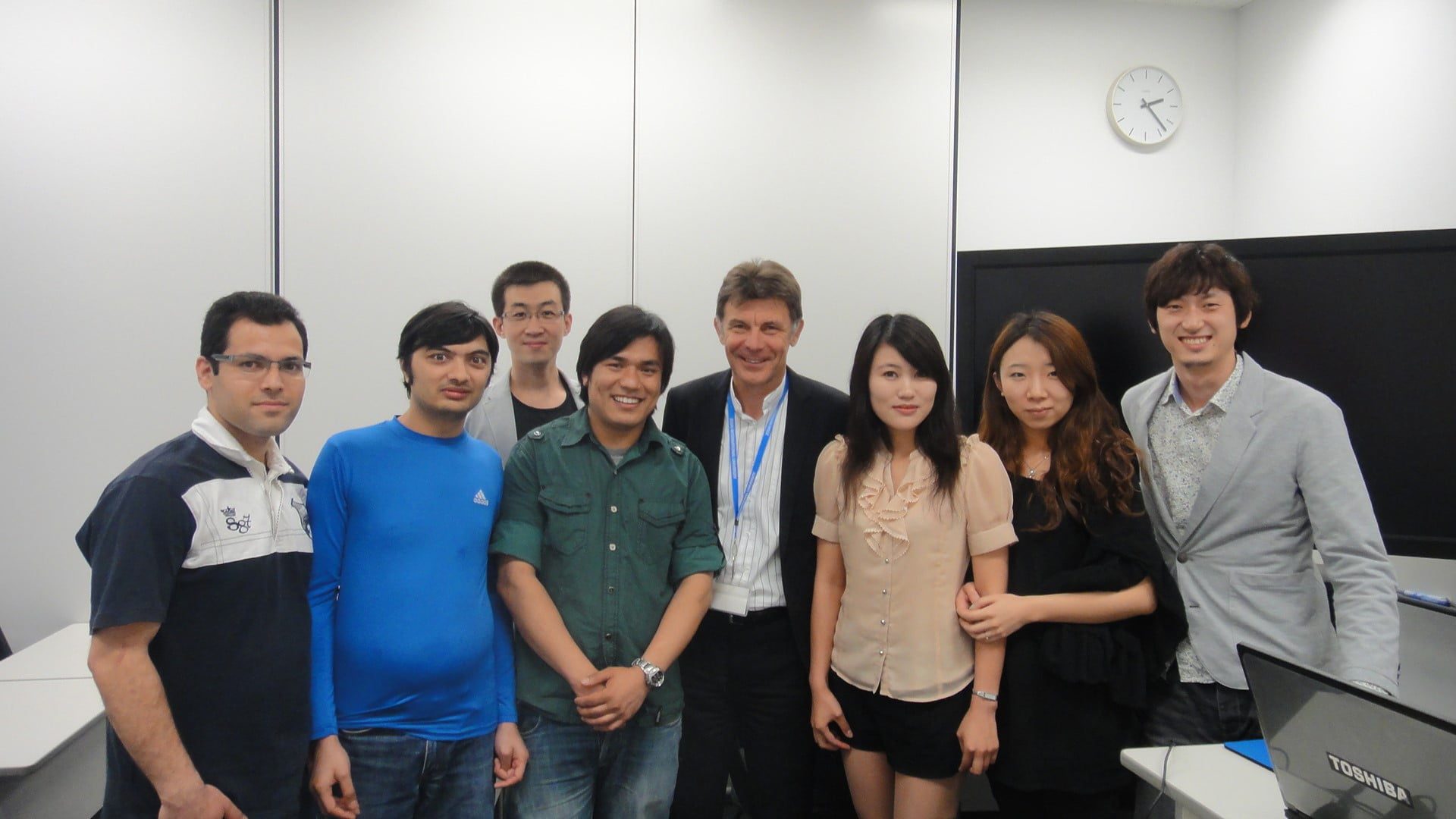 It should come as no surprise that representatives of the Hungarian government travelling to Japan visit this university, no matter how tight their schedules and how little time they have in Tokyo. When Hungary's then president, László Sólyom, visited the school in 2009, the chancellor announced the start of a scholarship program which has resulted in about 15 Hungarian students studying there each year. And it was wonderful to hear the teachers say that the Hungarian students pulled their Japanese fellows upwards, contributing to further improving the level of the university. The courses were quite valuable for the Hungarian students, too. After graduation they found jobs with leading Japanese firms, such as All Nippon Airways and Seven-Eleven, and some of the Hungarian students found their way into diplomatic careers.
            When Prime Minister Viktor Orbán visited Japan and the university in 2013, another announcement was made. The university established a Central European Research Center and the Hungarian government delegated two Hungarian researchers to the center (paid for by Hungary). This center is the latest step in the institutionalization of relations between Hungary and Josai, and is also evidence of the commitment to long term relations.
            Professor Mizuta has said she would like people to think of Josai University, among other things, on hearing the word "Hungary." I'm certainly in favor of that!
            What would have happened if I hadn't gotten to meet with my banker acquaintance, if he hadn't been promoted, and if he hadn't been asked... Luckily, all these things happened.
I took the photos myself.